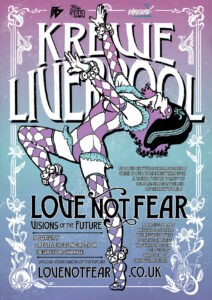 LOVE not FEAR' is an open collaboration to create a digital community "vision board" of people's hopes and visions of the new world; a place to plant the seeds and spread the message of the positive changes we want to see in our future through all creative mediums.
The project was initiated by KREWE LIVERPOOL founders Laura Brownhill & David McTague (Mellowtone) in collaboration with Vessel Studios, inviting contributions from people who have created work in a positive response to the current global situation.
With the site featuring everything from radio shows to dance, poetry to pottery, photography, comedy sketches, music, and jewelry to soothing DJ mixes and lots more, it's an eclectic time capsule of the strange year that has been 2020.
*This website is no longer active*
https://lovenotfear.co.uk/